A 'blind buy' (to me) is buying a record or some other form of music format with little or no before hand knowledge. 'Something about the release; be it band name, song title, artwork, label or something else screams at you to buy it. Take it home. Listen...
Sometimes it works out. Your bullshit is thick and deep and you think it doesn't stink... Sometimes it works. Sometimes it don't. Fuck listening stations, they take the fun and glory from the
experience
.
In the depth of Shake It Records... the vinyl basement. I get tired of looking a 'new' records an all that 'term' is associative with, including price. Fuck, didn't the US invade some countries a while back for their oil fields or something? So I decide to switch it up. I head over to the used section and soon enough find numerous ways to spend my $30's worth of trade-in on Cd's...
HUMAN SEXUAL RESPONSE
pull at my curiosity. The 12"ep
Pound
(Passport Records, 1981) and its simplicity strike me. I know NOTHING about this band. "Pound" the title track, inhabits the
A-Side. Instantly brings to mind Certain General or New Model Army. The B-Sides (2 of them) are tight tracks with the instrumental "Public Alley 909" bringing to mind PiL's
Second Edition
release.This blind purchase that set me back $3.99 turned out well. This record sparked my interest in this band. I will look for more.
Google later revealed Human Sexual Response was active 1977-82 in the Boston area
For $6.99, the
MONOTONIX
Not Yet
LP (Drag City, 2011) get some work outta those fuzz pedals. Sloppy, mean and raging, they sound like grunge gone wrong, so so wrong but make it work so so right.
Not Yet
is a rager. Imagine Mudhoney mixed with The Cosmic Psychos and to a lesser degree Kings of Leon. I'm amazed that chicken grease marks aren't all over this records dust sleeve.
Google later revealed that this band was from Tel-Aviv Israel. If anything, that at least explains one of their afros.
My version was different.
Ok, I didn't mean to but I hit the B-side first... I wasn't until I heard the B-Side track "Old Testament Love" that this band/record kicked in. Is this Becks first band? Finding their place with horns and fast funky beats infused with energetic arrangements, T
HE AFFLICTIONS
have a good, marketable sound so what happened? This LP Janet Style (Sick Room no date visible) grabbed me artistically with cover art looking verily punk/DIY with the record in a bag and paper wrap around sleeve. I dropped $7.99 on this. After some A -Side listening, I'm liking it more and more. Cincinnati locals Phoul Phill Andt Guill come to mind.
My Internet search came up with little unless this band weren't ton to be one of those thorny doom bands. But Sick Room Records is still in operation. Check them out
HERE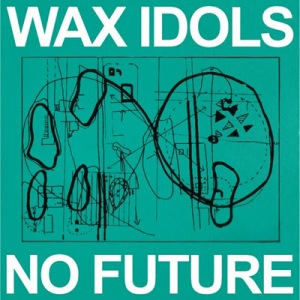 The true treasure of the shopping trip though was
No Future
(Hozac 2011)by
WA
X IDOLS
for $6.99. Really though... Blame has to rest on someones shoulders though so I blame Zach Braun or Josh Rutledge. mainly because the #1 reason I got this was the fact its on the Hozac Record label... I cant remember if its Josh or Zach that told me via blog post about Hozac records and I suppose I could do some fact digging to find the truth but fuck the truth. So I blame those guys because I really dig this LP... Masterful work.
No Future
is packed full of pop sensibilities in the vein of early 80's new wave beats with twist and turns showing up heavy in each song, but not overdone. Dystopian garagy-punk clean and fast guitars sometimes, mellow and brooding others. I'm reminded of bands like Something Fierce or Dikes of Holland mixed with Buzzcocks, Selby Tigers and Wire. In fact, on side B, the cover "Sand In My Joints", is a WIRE song and a beautiful cover at that. Verily fitting. You can dig at any store and find a great record but rarely will those great records be found so out in the open as
No Future
was. Now, Hozac Records is stuck in my head. A label I will look more into. Bye bye Money.
My google search found
THIS
and
THIS
PS: Yeah Josh, you'd like Selby Tigers. They are waiting for you.